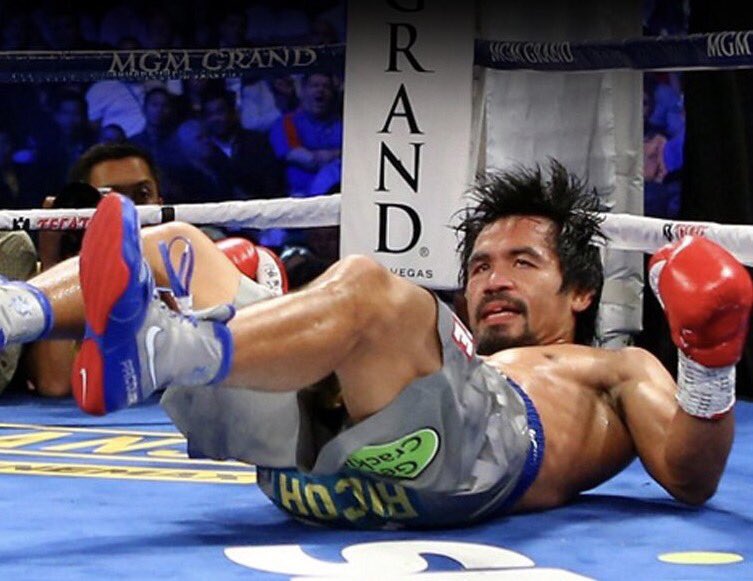 Credits to @KowloonDandy (via Twitter)|Pacman falls
There were MIXED feelings when Pacman lost to Aussie Welterweight boxer Jeff Horn.
If you think that being happy that Manny Pacquiao lost the fight (not in a Schadenfreude way) is ANTI-FILIPINO, then letting him fight again while being a senator is even more ANTI-FILIPINO thank you think.
Pacman did not fight for the country, but he fought for MONEY. Kaya, his charitable acts are plain sugarcoating, as compared to Angel Locsin's. If Angel Locsin is charitable, then that's because she has been doing it ever since!
"Kasalanan ni Jake Zyrus ito!"
NOPE, and what has Jake Z have to do with Flunkman's loss?
In fact, Jake Z's only mistake is to reveal his procedures and "beauty advice." However, he wasn't involved in Pacman's loss.
WELCOME THE NEW FACES
Speaking of Jeff Horn, well, I'm not even a fan of boxing. Yet, why not welcome a fresh face to take someone's place? Ultimong si Michael Phelps nga, nag-retiro sa swimming dahil tinalo siya ni number one fan niya, who is no other than Joseph Schooling. As you can all see, despite his victory, Schooling remains down-to-earth. Same with Phelps, despite being hounded by controversies before. Bukod ke PELPZ…
Walang sinabi si FLUNKMAN kay David Beckham, eh! Becks didn't play association football for the money. He even stated that he only played for LA Galaxy to be "part of the team," despite being celebrated as an international star when it comes to sports. He retired to give way to prominent footballers like Portuguese Cristiano Ronaldo and Argentinian Lionel Messi. Buti pa si Beckham, dehins nagmo-monopolize ng talent. Heck, he does not monopolize what football/soccer is about.
So, we should [not necessarily] be happy about his loss?
Granted, we must not take pride in Pacman's loss, because politics should not be included. However, Manny Pacquiao's loss is a wake-up call to the bobotante horde, who still continues to patronize ultra-conservative politics. Sa mga bobotanteng mga fantards ni Flunkman na bumoto sa kanya sa eleksyon, it is not your idol's loss, but YOURS. Una sa lahat, walang boxing ring sa senado. Also, Pacman vs. Trillanes is not something we should expect in the ring, but in the debate hall.
I still respect Pacman as a boxer, but not when it comes to politics. After all, Pacman is still the same bigoted hypocrite who is anti-RH Law, but is pro-death penalty (LOL, parehas sila ni Lucy Torres na TRAPO!). Also, he himself telling people that "why have divorce if there's annulment" is simply put, pleasing the prude conservatives. Lastly, his reason for opposing same-sex marriage still irks the crowd until today. There's no need for you to INSULT people to justify your claim.
No wonder, there are still some people who will be Schadenfreude for his loss (which I completely understand). However, there are still some people who will make fun of it, for example, Jim Paredes (EHEM!).
Well, sorry na lang si Pacquiao, wala na si Ka Ronnie Nathanielsz to the rescue, eh. It only means, what's left for Pacman? Oh, he'd rather focus on being a senator, then I plead him, please don't run for president. I tell you, the Philippines will be a laughing stock if he wins the presidency.